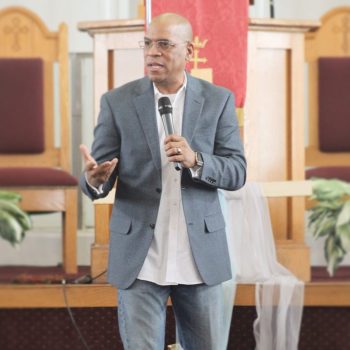 Minister Richards was born the youngest of eight children in Indianapolis, Indiana on 1960. He received the Lord in his life at the age of nine. He attended high school in Danville, Kentucky, where he graduated in 1978. Jeff enlisted into the U.S. Air Force at the age of 18. It was there he was decorated with the distinguished Air Force Commendation Metal for above and beyond the call of duty. While in the Air Force, Jeff took college courses with Los Angeles Community College in his spare time.
Minister Richards accepted his calling to preach the gospel in December of 1999 and ordained a Minister in October 2000.
Pastor Richards received his start in serving at Eastside Baptist Church under the guidance of Pastor Ray S Ware as a Mighty Man of David
He is one of the co-founders of Prodigal Sons Ministries, dedicated to hosting men's conferences nationwide as well as working with young men and women on finding their way to Christ. With the gift of evangelism, Minister Richards preaches the gospel at churches nationwide while crossing denominational lines in an effort to unify the body of Christ
Minister Richards served as coordinator over Evangelism and Outreach at Eastern Star Church (Pastor Jeffrey Johnson Sr., Sr. Pastor) and was Director of Evangelism for Healing Streams Word and Worship Center in Indianapolis, Indiana (Pastor A. Thomas Hill, Sr. Pastor).
He helped develop several evangelism ministries including Project Go, a ministry that takes the Gospel of Jesus Christ to front porches of our communities in an effort to reach those who have been "left behind" in today's time. He has served at local youth prisons ministering to young boys that are incarcerated to prepare them for true freedom after their release.
In 2006, Minister Jeffrey Richards was called to be Pastor and founder of New Birth Praise & Worship Center. A church dedicated to the growth of believers and the salvation of non believers thru combining spiritual and practical teaching. New Birth believes having a close relationship with Christ is far more beneficial than religion in the church
Pastor Richards is married with four children and six grandchildren
Pastor Richards believes, "WHEN YOU GET TO HEAVEN, YOU SHOULD SEE SOMEONE YOU HELPED TO GET THERE"